We have sent you an email. Please check your inbox. If you cannot view it in your primary inbox, please check your Spam or Junk folder.
Defense contractors face a technically rigorous process. Selecting a Managed Services Provider with the right Business, IT, cybersecurity, and regulatory experience to understand the unique factors of your environment, your security controls, and your business processes is critical to meet your business objectives in an efficient and timely manner.

That kind of business knowledge and ability is why organizations in the Defense Industrial Base (DIB) rely on VLC Solutions.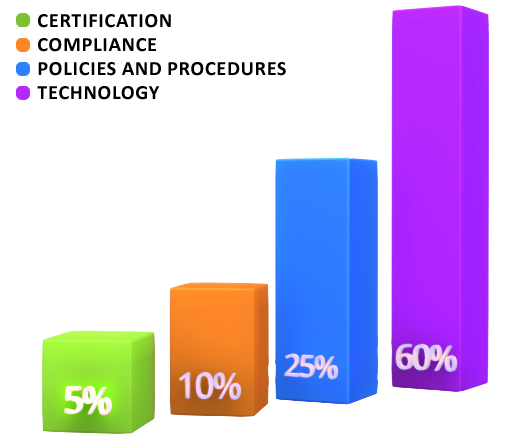 Advisory Services
The compliance preparation process can seem daunting unless you have an experienced, trusted Advisor that can guide your team and help you with organizational, people, processes, and technology objectives.
We work with you together in advising on Controlled Unclassified Information (CUI), ITAR, DFARS, CMMC GAP Assessments, SPRS Updates, NIST SP 800-171, NIST SP 800-172 and
ISO 27001
.
VLC Solutions has been providing clients with advisory services since late 2019 and has a staff of proficient business technology, and compliance experts to help you effectively prepare, work towards, and maintain your compliance requirements.
Technology Services
DoD Compliance Services:
Infrastructure Design, System Design and Configuration, Cybersecurity and security awareness, Cloud, On-Premises, Endpoint including Mobile device management, Manufacturing Plant, and machinery management. The whole customer data and communication is addressed in accordance with NIST SP 800-171, NIST SP 800-172,
DFARS Cybersecurity 7012
, ITAR and CMMC 2.0 regulations.
Timeline Planning: We offer a steady direction through the consistently evolving compliance environment and dynamic journey.
Full-time Assistance: Our staff is always available to assist you at every step.
Surveillance Tracking: This entails actively tracking the processes and surveillance systems under consideration.
Policies and Procedures
We offer policies and process development for all NIST 800-171, NIST 800-172, DFARS, SPRS (Supplier Performance Risk System), and CMMC 2.0 controls. Further, we also help you maintain and update the policies and procedures from time to time.
Training
We train your staff on how to identify, label, mark, and process CUI. Further, we also offer training on Personally Identifiable Information (PII) which is stored, processed, or transmitted on behalf of the government, and on the use of policies and procedures.
Readiness Assessment
Aerospace and defense contractors in the
Defense Industrial Base (DIB)
must establish and preserve a vast network of
ITAR
,
NIST 800-171
,
NIST 800-172
safeguards and CMMC practices to satisfy DFARS cybersecurity commitments and attain CMMC 2.0 certification.
DFARS
252.204-7012
,
252.204-7019
, and
252.204-7020
require performing NIST SP 800-171 Basic Assessment using System Security Plan (SSP), remediation Plan of Action & Milestones (POAM) and updating the accurate score on Supplier Performance Risk System (SPRS).
Collective Responsibility:
This includes the innate collection, classification, and allocation of duties needed for CUI Handling,
CMMC 2.0
Basic, Medium and High Assessment.
VLC helps you with a comprehensive readiness assessment that mirrors the CMMC Assessment. It is designed to help you predetermine the likely outcome and your team's readiness to proceed with the official CMMC Assessment and Certification.
Therefore, a powerful MSP service can help you glide through these processes with seamlessness.
VLC is distinctively skilled to support your organization's CMMC initiatives with our experience and specialist viewpoint in achieving successful compliance.
Please get in touch with us
to analyze your CMMC targets and how we can help you.
Case Study
---
---
Several federal contractors have come to rely on VLC's governance and compliance professionals to evaluate their capabilities, identify solutions to the current security flaws, and obtain the required practices, strategies, and more.
---
Advisory Services
---
---
Collaborate with our Technology advisors, you will receive a custom-designed technology strategy and infrastructure blueprint based on your business-specific objectives, fully supported by our in-depth sector know-how.
---